AT&T has been leading the way in cutting jobs among major operators in North America and Western Europe, with its workforce shrinking by 117,100 people (roughly 42% of the 2017 total) from the start of 2018 to the end of 2022. An additional 5,100 jobs have been eliminated since January. Despite the substantial reduction in headcount, operating expenses remain high, reaching around $24 billion in the first quarter, the same amount as the previous year. The company's cost-cutting target is $6 billion, but details on the remaining headcount reductions were not provided during a recent earnings call with CEO John Stankey and analysts. Stankey emphasized AT&T's digital transformation and the use of AI to improve operations, potentially indicating further job cuts in the future.


Sponsored Ad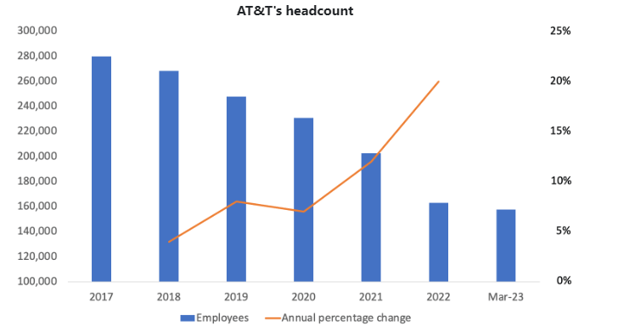 *Retrieved from lightreading.com
RTO Layoff Implications
AT&T Inc. is consolidating its office locations into nine core offices. Over 60,000 managers will be required to work in-person at least three days a week, starting in July for the main hubs and by September 4 for other core offices. The main hubs are located in Dallas and Atlanta, while the other locations are in Los Angeles, Seattle, Washington, San Ramon, St. Louis, Middletown, and Bedminster.
AT&T's CEO stated that approximately 85% of affected managers live near the new offices, while the remaining 15% may make decisions based on their personal circumstances. According to Stankey, the company is offering "generous" relocation services, but still expects AT&T to have around 15,000 fewer employees this year compared to the previous year. AT&T has an ongoing $6 billion cost-cutting program.
The move comes as many companies face challenges in bringing employees back to the office after remote work policies during the pandemic. AT&T's attendance mandate applies to managers involved with operations and not in consumer-facing roles like union members in customer service, retail, or field technicians. AT&T's attendance policy applies to operational managers and creates two categories of management employees: office and virtual. While most managers will be required to be present at least three days a week, about 10% will have a virtual arrangement and will need to be in the office one-to-five days per month. Stankey emphasized the importance of collaboration and creating a dynamic culture within the company.
In a parallel development, Citigroup has also started taking steps to ensure adherence to their work policies. Managers have been informed to communicate to their employees about potential consequences if they fail to comply with the office attendance policies. Citigroup is particularly focusing on employees with unexplained and persistent absences, even though the majority of the company's employees are adhering to the hybrid work policy.
Moreover, Citigroup has indicated that compliance with office attendance policies will be considered when assessing employee performance and determining compensation packages. This suggests that persistent non-compliance could potentially impact an employee's career progression and financial remuneration at the company​.
Despite these measures, Citigroup has expressed its commitment to its hybrid work model. This model allows employees to work at least three days in the office and up to two days remotely, providing a balance between in-office collaboration and remote flexibility​.
These measures by Citigroup and AT&T reflect the challenges faced by companies as they navigate the transition from remote work policies introduced during the pandemic back to more traditional office-based models, and the diverse reactions these changes are eliciting from their employees.
Conclusion
AT&T's journey resembles a patient recovering from a medical procedure. The company underwent workforce reductions and is demanding employees return to the office, in a move management believes will help rehabilitate the company. Now, as AT&T employees return to the office they must adjust to new routines. However, around 15% of employees affected face a tough decision—either relocating or leaving the company due to the new office locations.
Just as a specialty doctor oversees a patient's recovery, a financial advisor becomes paramount for AT&T employees and retirees. Similar to a doctor, a financial advisor comprehends the unique circumstances faced by those leaving AT&T, including the 15,000 projected employees departing. They provide personalized financial guidance, addressing retirement income, investment strategies, tax planning, and estate management. This information will help the 15% of employees make a decision between relocating or leaving AT&T.
Reference(s):